The popularity of transactional emails is growing up every single day. They are pre-programmed messages automatically sent to users whenever they execute any specific action, like password reset, account update, order confirmation, etc.
While promotional emails are great for augmenting sales and engagement, transactional emails build trust and long-term relationships with customers. However, it's a must for you to understand how to measure transactional email performance.
Because it will enable you to optimize transactional email strategies, boost delivery rates, and improvise their impacts. There are several KPI metrics you can use for that. This article will introduce you to many such metrics and best practices on the topic. Get started!
Importance of Measuring Transactional Email Performance
Transactional emails are the backbone of any successful email marketing campaign. They provide resources like customer touchpoints, verified leads, and long-lasting relationships. You can use them to increase the likelihood of conversions through targeted email campaigns.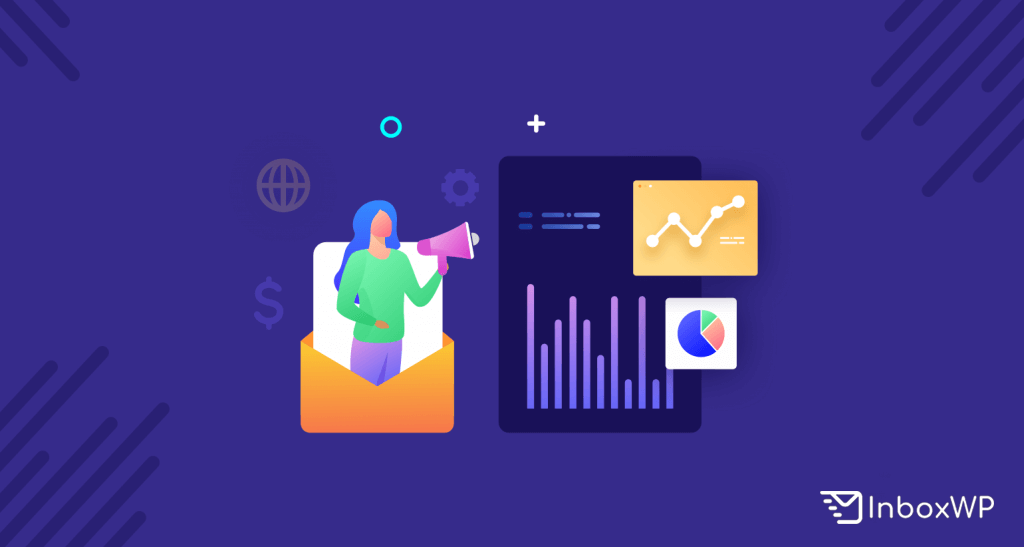 Below we have listed key points on the importance of measuring transactional email performance and how they can improve your email marketing efforts.
Improve Email Deliverability
Measuring transactional email performance can help identify clogged issues causing spam complaints and email bounces. You can improve email deliverability by solving these issues.
Carry out A/B Tests
You can A/B test with different subject lines, graphics, content, sender name, and message tune to determine the type of emails with high open and click-through rates. Accordingly, you can optimize your email strategies.
Enhance User Experience
Transactional emails work best if you can send timely. Through regular testing and observation, you can create a schedule defining when to send out an email right after the specific event occurs.
Boost Brand Exposure
Since transactional emails have a high open rate (40%-50%), you can include elements like logos, color pallets, and slogans to present memorable brand experiences.
Impact on Revenue Generation
You may use transactional emails to upsell and cross-sell products. Measuring these emails can provide you with scopes and ideas on how to promote products that can bring you extra sales and revenue.
Learn effective guides on how to improve transactional email design.
Fundamental KPIs and Metrics for Measuring Transactional Email Performance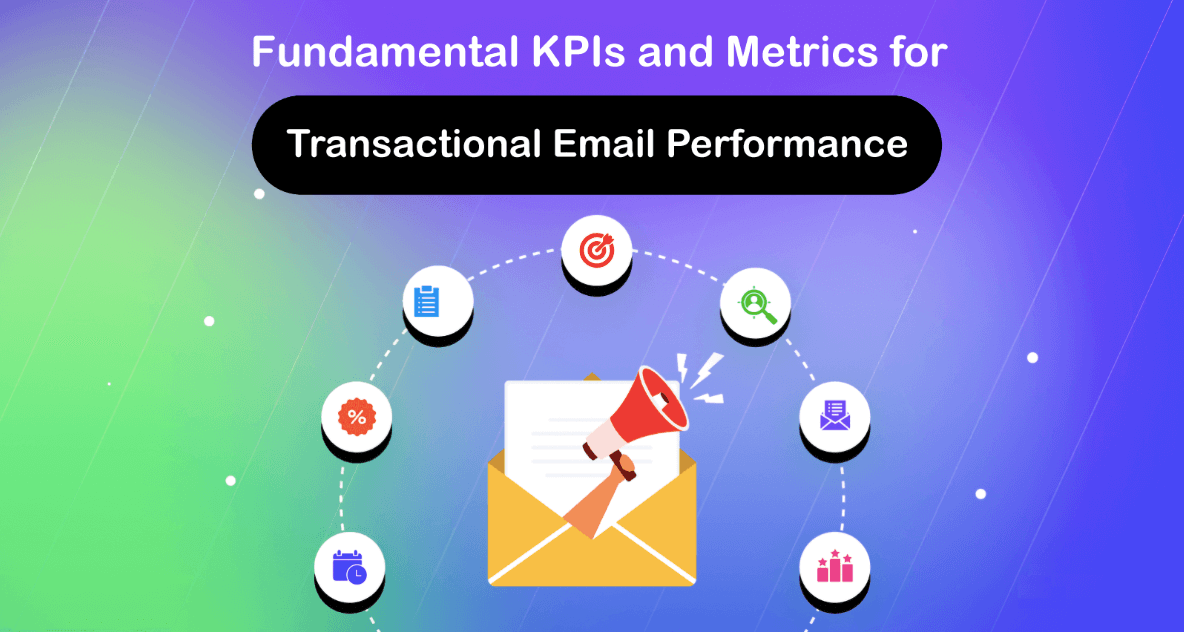 Sending emails means the half job is done. But monitoring how they are performing is equally important. There are several key metrics used in measuring transaction email performance. We'll cover a detailed discussion about them in this section. Keep reading!
1. Email Delivery Rate
Email delivery rate refers to the percentage of emails successfully delivered to the inboxes of recipients' accounts. This metric can help you identify issues linked to email deliverability. A low delivery rate indicates there are issues with email lists, authentication, and content.
Besides, some users may have marked your emails as spam, which can also cause a low delivery rate. Necessary corrective actions can help you improve the email delivery rate and bring it to a normal state.
2. Email Open Rate
It measures the percentage of your sent emails opened by recipients. A low open rate indicates your subject lines are neither relevant nor engaging enough. Plus, the time when you send emails isn't perfect. You must A/B test with several subject lines.
And also, find a schedule when emails have a high open rate. Check out some best email subject line tips to increase the open rate.
3. Click-Through Rate
Click-through rate counts the percentage of recipients who clicked on the link(s) that came with emails. These links may include double opt-in, cross-sell, upsell, landing page, product review page, survey, etc.
A low click-through rate means your inside content isn't up to the mark. It doesn't offer any desirable value, and your call to action isn't clear. Here're sever best practices on how to improve the click-through rate.
4. Conversion Rate
The conversion rate evaluates the percentage of recipients who performed a desired action by clicking the link(s) coming with the email content. It may be downloading software, subscribing to a plan, buying a product, filling out a form, etc.
This metric is directly linked to revenue generation. So you must take it with much care. Unclear call-to-action messages, failing to target the right audiences, not offering worthy value, complicated checkout, etc., are key reasons behind the low conversion rate.
5. Unsubscribe Rate
The unsubscribe rate describes the percentage of recipients who have unsubscribed themselves from receiving further emails and newsletters. A high unsubscribe rate indicates you have failed to target the right audience or your messages look too generic or spam.
Another reason may be you send too many emails in a short time span that they don't like. Whatever the reason is you must update your email listing and sending strategies. Otherwise, it can end the possibilities of countless potential customers.
6. Time to Open Email
Time to open measures the average time your emails take to be opened by recipients. You can take this as a guide to decide the best time to send emails. This metric is important for transactional emails as they are time-sensitive and require instant recipient actions.
If your recipients are geographically spread over different locations, they will definitely have different email open times. You can overcome this problem by segmenting email lists based on locations. Here's a beginner guide on how to segment email lists.
7. Session Length on Email Reading
Session length quantifies the average time a recipient spends reading an email. This metric helps measure the engagement level of recipients with your content. If they spend only a few seconds, it hints your content is boring, too long, and not interesting.
Optimize email content with catchy graphics, personalize the text, and add clear call-to-action(s) with valuable content. These can increase recipients' time on your emails.
Tools You Can Use to Measure Transactional Email Performance
Measuring transactional email performance manually can be extremely time-consuming. It's impossible to quickly process a large volume of data without an automated tool. Plus, manual tracking can involve human error and lead to inaccurate insights.
Fortunately, there are many email marketing tools and plugins. Using any of them, you can easily measure transactional email performance error-free. Let's explore one of them.
weMail – Simplified Email Marketing Solution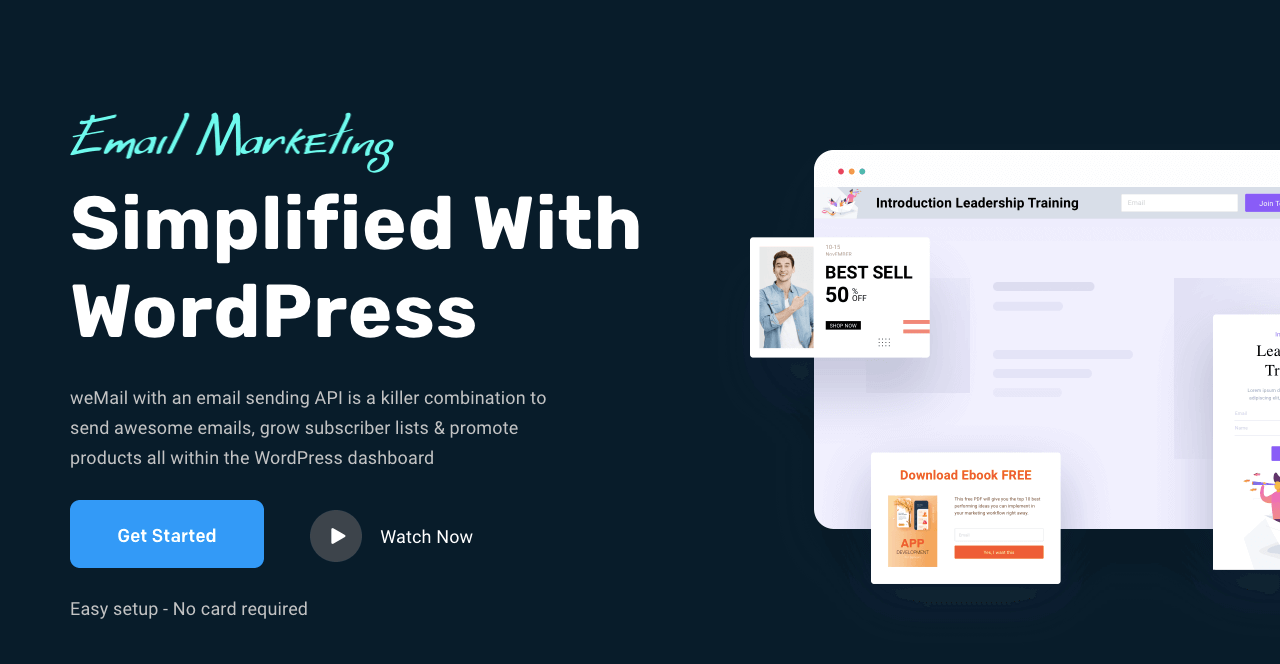 weMail is a powerful email marketing plugin with various features. It allows you to create and send transactional emails and check their performances based on different metrics. Check out some key benefits of this plugin.
a. Automation Capabilities
Hope you already know transactional emails are pre-programmed automated emails. The weMail plugin will allow you to set conditions to automatically trigger transactional emails based on events and users' activities.
b. Built-in Analytics and Reporting
weMail comes with powerful built-in analytics. It provides you with 24-hour reports on how your transactional emails are working. You can track their performances based on metrics like delivery rate, open rate, click-through rate, conversion rate, and more.
c. Integrations with Other Tools
weMail integrates with many other tools and services, like WooCommerce, MailChimp, Amazon SES, SMTP, and popular contact form plugins. So, you can easily connect this plugin to the other tools and services you want.
d. Create Email List and Segmentations
It's impossible to carry email campaigns efficiently without error-free email lists. weMail allows you to create and publish subscription forms. You can segment the email ids into multiple lists based on different conditions, like gender, age, location, etc.
Best Practices for Improving Transactional Email Performance
If you have overlooked the importance of transactional emails for a long time and now thinking of revamping its strategies, there are some best practices for you in this section. At least skim through them.
1. Optimize Email Content
Content is the most important thing for the success of transactional emails. Make the inside content clear, concise, and relevant so the entire message is scannable in 3-4 seconds. It will not only make your message communicative but also improve the open rate.
2. Add Personalization
People tend to avoid emails that are sent anonymously. But emails that have personalized attachments usually have a high open rate. So how to personalize transactional emails?
Address recipients by their name instead of generic greetings.
Segment the email list based on age, gender, location, and other issues.
Show content that is very specific to the segmented email lists.
3. Avoid Unusual Jargon
Using unusual jargon may confuse email readers. It may even intimidate those who don't have a good linguistic understanding. This will make them disengaged, which will negatively impact conversion. So always avoid technical jargon and use acronyms and phrases that are familiar to common audiences.
4. Send Emails at the Right Time
There are some emails you must send immediately and some after regular intervals. Regarding immediate emails, you must take care of opt-in and double opt-in programs. Regarding the other emails, set conditions based on events so they are triggered at the right times.
Here're our hand-picked days and times when emails have comparatively a high open rate.
5. A/B Test Regularly
There is no such marketing tactic that will give you the lifetime same result. Competitors will always try to develop new strategies to beat you. So you must A/B test with different approaches, email content, subject lines, and call to action to find new ways to rein your position in the market. Never implement any new strategy before testing it out.
6. Learn from Previous Mistakes
You'll not always be successful in your tactics. Even giant companies often fail. But they analyze the failure and try to determine its reasons. You must do the same as well. Analyze your email performance against the fundamental metrics. Better you use a tool like weMail. You'll get a detailed report. Accordingly, you must modify your strategies.
FAQ on How to Measure Transactional Email Performance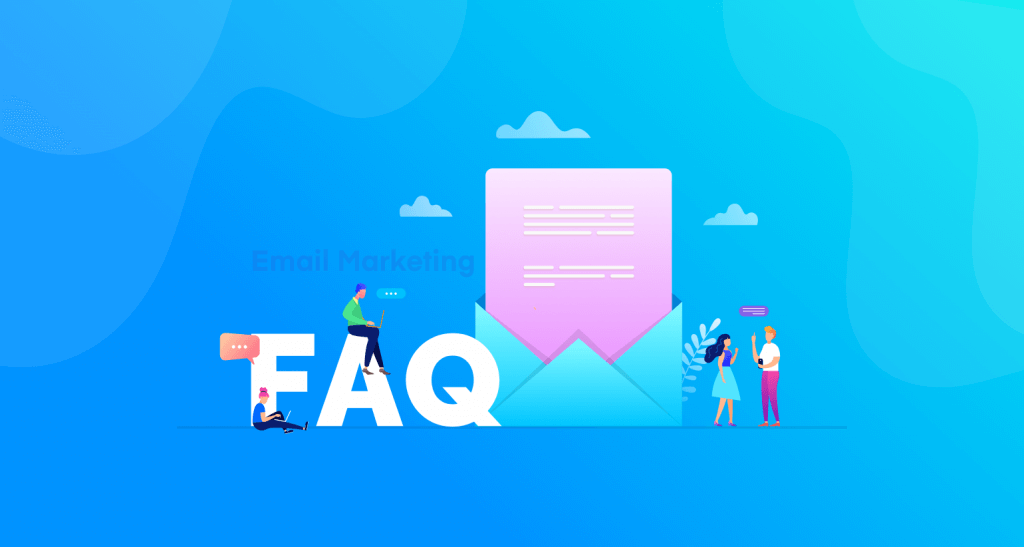 We have tried to cover all the major points linked to how to measure transactional email performance in the above write-up. Here we'll answer some additional questions on the topic.
What is the average open rate for transactional email?
The average open rate varies based on the type of transactional emails. For example, welcome emails have an average open rate of 83%. However, if you count all the other transactional emails, the average open rate will range from 50%-60%.
What is a Good Bounce Rate for Email?
A maximum of 2% or less is counted as a good email bounce rate benchmark.
Can I Use Google Analytics to Measure Transactional Email Performance?
Actually, Google Analytics is designed to measure website performance following traffic and conversion. This tool isn't designed to measure email performance. However, you can take the help of its measurement protocols to evaluate user interaction with emails. But it is time-consuming and not beginner friendly. Better if you use an email service plugin.
Can I Use Emojis in Transactional Email?
You can use emojis to make your transactional email copies interesting and engaging. But make sure you use them appropriately to make your message contextual and resonate with your brand.
How Can I Ensure My Transactional Emails Are Mobile-Friendly?
You don't need to worry about mobile responsiveness if your messages include texts and links only. But if you want to send any HTML template, better using any email plugin like weMail. This plugin will allow you to break the template for different screen sizes.
Final Takeaways on Transactional Email Performance
Measuring transactional email performance is crucial for the success of any business organization. It identifies the areas where your email strategies require improvement. Metrics like delivery rate, open rate, and conversion rate can provide you with valuable insights.
We have tried to cover all the major metrics in this article and best practices. Hope you can leverage this guide to level up your transactional emailing strategies and make the best of it.