Looking for a centralized solution to handle various server-related tasks and manage your WordPress websites seamlessly? FlyWP, a brand-new product of weDevs is ready to streamline your website and server management systems seamlessly.
Managing a WordPress website includes various tasks, like optimizing performance, handling updates, ensuring security, debugging, and more. All these can be extremely time-consuming and complex for busy website owners.
Using FlyWP, you can manage all tasks from a centralized platform and utilize your rest time to grow your business. This article will provide you with a quick overview of this platform, explaining its standout features and things you can do with it. Ge started!
The Significance of a Server Management Solution for WordPress
Although WordPress is a powerful content management system (CMS), it has to depend on any server to function properly. This is why having a good server management system has been so crucial for managing WordPress sites efficiently.
Below, we have shortlisted some key reasons, explaining the significance of using a server management system.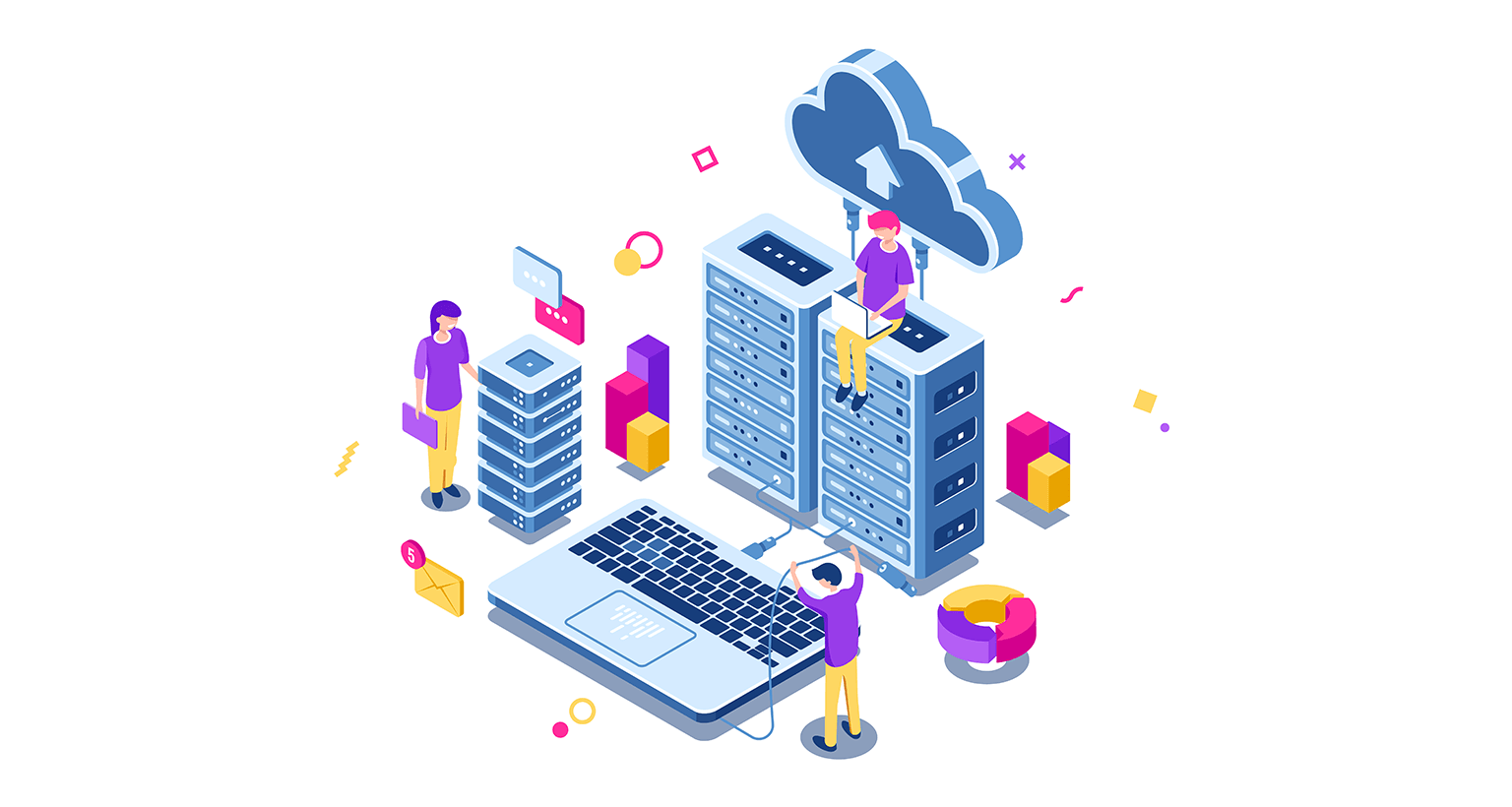 a. Resource Monitoring
Tracking resource usage can help you ensure that the server has sufficient capacity to handle the current and upcoming workload. You can also know in advance if there is any technical issue that may affect your website's speed and performance.
b. Scalability and Load Balancing
If there's a spike in web traffic, the server management system can distribute the incoming traffic across multiple servers. It automatically adjusts resources like RAM, storage, and else to tackle the increased demand.
c. Software Update and Maintenance
Updating software like Apache, Nginx, MySQL, and MariaDB regularly can ensure server compatibility with the latest WordPress versions. This automatically fixes the vulnerability issues that hackers may use to exploit your site.
d. Performance Optimization
Server management systems like FlyWP include multiple caching mechanisms to store what is frequently requested by users. This can improve the responsive speed by reducing the server loading time.
e. Security Measures
Server management systems allow you to conduct regular security audits. You can also configure firewalls to prevent malicious attacks and unauthorized access. Thus, you can employ multi-layer security protocols on your site.
Simplify Your Server Management with FlyWP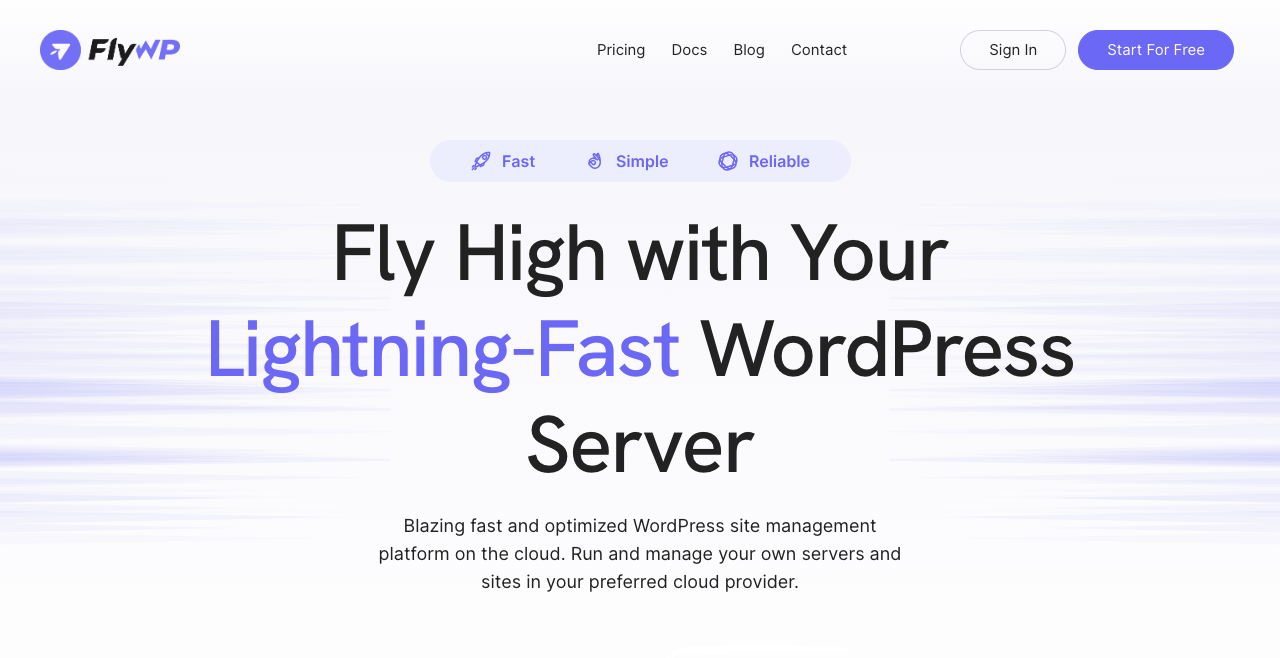 FlyWP is a cloud-based powerful, and comprehensive server management system. This solution has been designed specifically to enhance and optimize the performance of WordPress websites.
Regardless of the cloud or any server you are using, FlyWP promises to help you with everything you need. FlyWP prioritizes site security with many built-in features to prevent vulnerabilities and potential threats to your site.
For developers, FlyWP is like a dream come true. Its integrated system provides you with problem-solving tools to streamline the workflow so you can focus on creating exceptional content. The 7G firewall integration ensures real-time threat detection.
Whether you're a developer, site owner, team manager, or else, you'll find FlyWP as a handy solution to easily navigate the WordPress ecosystem and take your online business to the next level.
Key Features: What Makes FlyWP a Standout Server Management System
You'll find numerous server management systems online. But why should you still use FlyWP? Below, we've discussed some of its extraordinary features that will make you love the FlyWP. Keep reading, please!
1. Support for Any Server
We've already said that FlyWP is seamlessly compatible with any server or cloud provider. It works smoothly with servers like Amazon EC2, Google Cloud, Vultr, Digital Ocean, Akamai, or any custom one.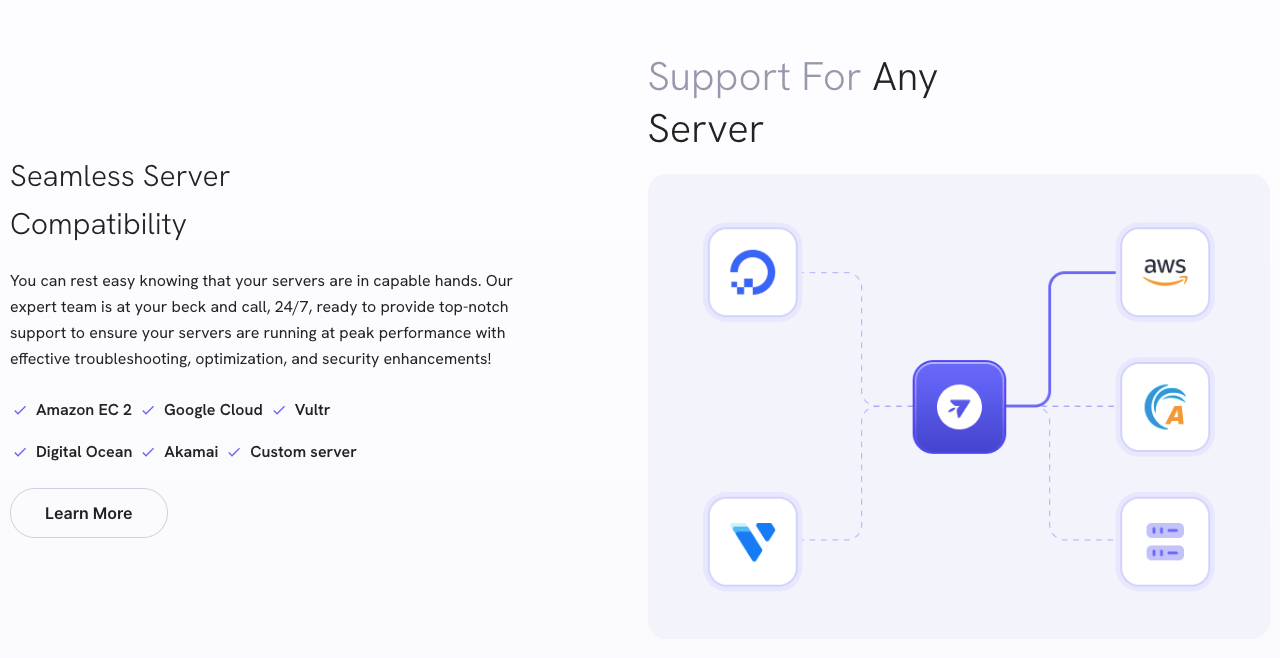 In the case of any problem, you'll get the expert support team 24/7 next to you. They are ready to provide various supports, including troubleshooting, documentation guides, security enhancements aids, and more.
2. Optimized for WordPress Eco-system
WordPress is currently powering up 40% of all websites globally. Developers are constantly coming up with countless themes, plugins, and solutions for the platform. FlyWP deeply understands this entire ecosystem.
It provides a wide range of optimization services to ease WordPress site management. You can customize the memory limit, enable/disable the debug mode, turn on/off the script debugging, allow automatic login to WordPress sites, and more.
3. Strong Security Management Protocols
FlyWP has seamless integrations with Cloudflare, a popular content delivery network (CDN) and security service. This can save your site from potential DDoS attacks. Cloudflare integration also ensures the automatic update of DNS records, purging cache, and configuring rules from the dashboard.
So, your site never faces page loading speed issues, enhancing the overall site performance. In addition, FlyWP audits your site in the background round the clock and informs you in real-time if they detect any issues. So you can instantly fix the vulnerabilities before any damage is done.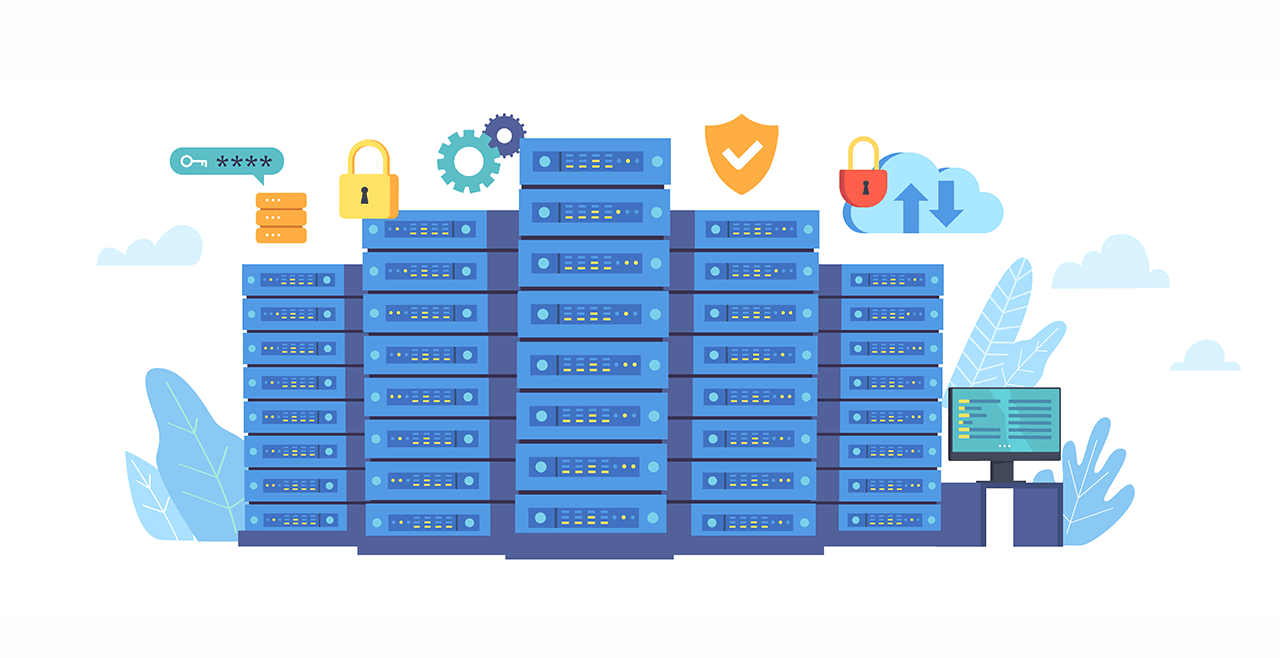 Every new site created with the FlyWP server comes with a free SSL certificate. So, your data and visitors are protected right from the start. Isolation of sites with Docker shields your site in a secure environment, preventing many potential risks.
4. User Role Management
FlyWP allows you to manage your WordPress site and server as a team. You can assign different levels of access (Super Admin, Server Admin, and Site Admin) to the team members, ensuring everyone is working efficiently and securely.
Super Admin – Allows total control and management authority over all settings and permissions.
Server Admin – Let you manage the already created servers and sites. But you cannot create a new server.
Site Admin – Can manage a site only but have no server-level access.
5. WP Config Editor
FlyWP includes a WP Config Editor. It allows you to exercise the debug mode, error logging, PHP error tracking, script debugging, and enable/disable core updates to fine-tune your WordPress experience. These allow you to tweak necessary files in WP Config files to strengthen the security mechanisms of your WordPress sites.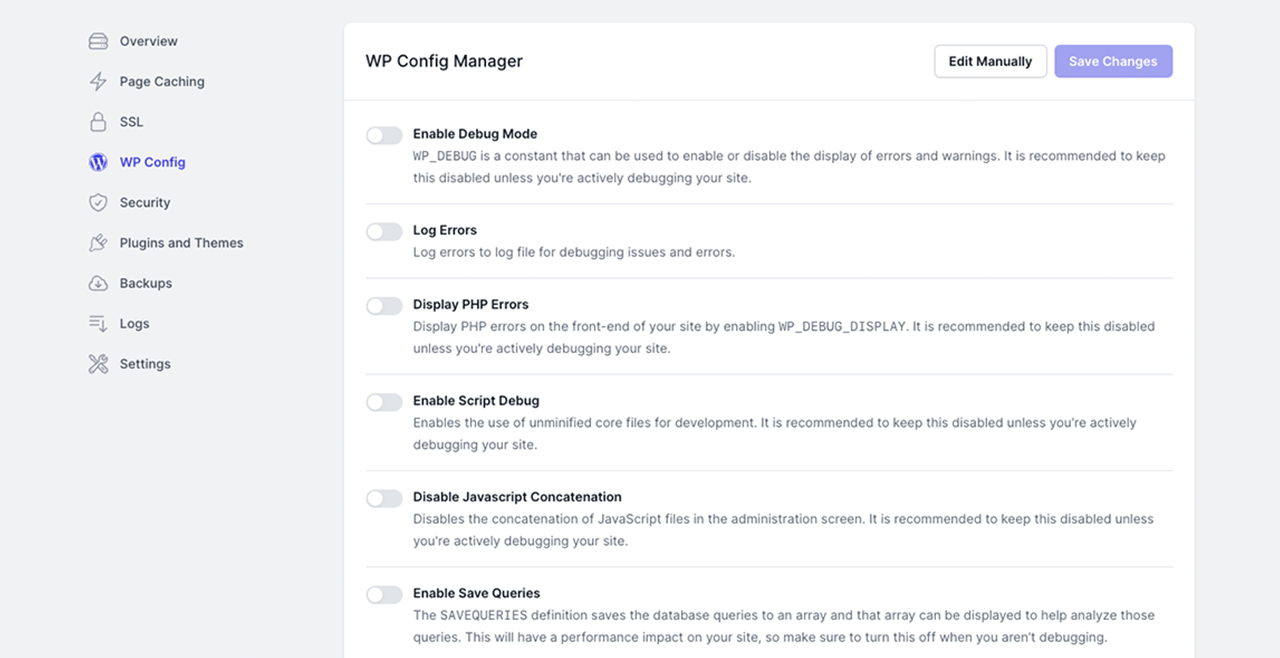 6. Developer Friendly
FlyWP empowers you with the necessary tools for efficient debugging and problem-solving, making the development process super easy. Because you have to spend less time on-site management and utilize the rest of the time in software development.
Plus, due to the robust firewall and security systems, you can test your products and plugins on the staging sites with peace of mind. Because you can be sure that no one can steal your valuable data.
7. WordPress Multisite Support
FlyWP offers support for WordPress multisite. So, if you ever dream of creating a network of blogs or business websites, FlyWP will make this true. Its extensive flexibility and control management system will authorize you to manage all the websites from a single centralized dashboard.
8. Multiple Caching Types
Caching mechanisms help you turbocharge the performance of your WordPress site, upholding its page loading speed. FlyWP comes with three powerful caching mechanisms. They are:
Full Page Caching – This makes your site act as a static site, eliminating the need for PHP and database queries.
Redis Caching – Reduces database requests massively to boost your WordPress site speed.
Compatibility with Other Plugins – You can integrate any WordPress caching plugin to your site flawlessly.
9. Automatic Backups
You can set up an automatic backup schedule at regular intervals. You also have the flexibility to store your backups on the cloud. This provides multi-layered security, ensuring that your site's data is always protected. FlyWP has three types of backup methods available for you. They are:
Schedule Backup – The database will be automatically backed up daily at the pre-scheduled time.
Manual Backup – You can backup the database instantly any time you want.
Download Backup – This allows you to download the database and save it into your desired drive/storage.
Pricing Plans of FlyWP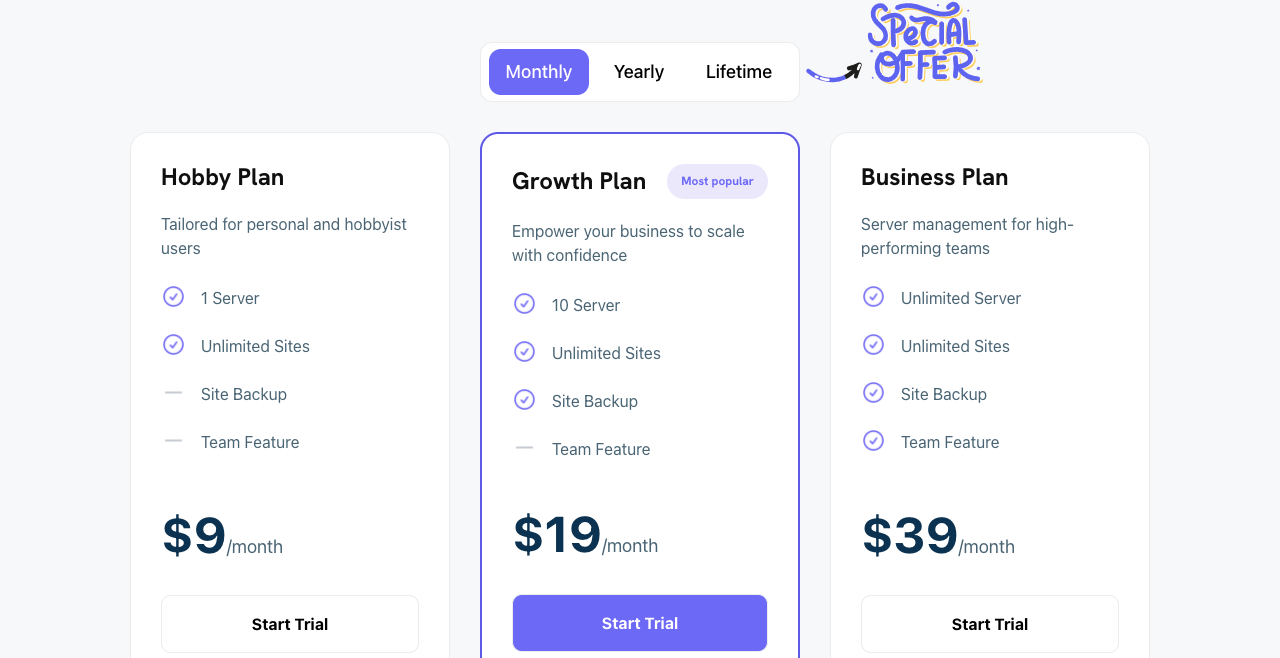 FlyWP allows you to use this platform for 14 days for free. Once the trial period ends, you have to upgrade to the premium plan. FlyWP has three pricing schemes. Each one comes up with several pricing plans. We have presented them in the following table.
| | | | |
| --- | --- | --- | --- |
| | Monthly | Yearly | Lifetime |
| Hobby Plan | $9/month | $90/yearly | $349/lifetime |
| Growth Plan | $19/month | $190/yearly | $649/lifetime |
| Business Plan | $39/month | $390/yearly | $949/lifetime |
Hobby, Growth, and Business plans allow you to manage one, five, and fifteen servers, respectively. Plus, you can enjoy unlimited sites and regular site backup.
FAQ on FlyWP Server Management Solution
As FlyWP is a brand new server management solution to the market, you may have numerous questions and curiosity about it. So, you have shortlisted some potential questions you may have in your mind and answered them below.
Question 01: Is FlyWP compatible with all servers?
Yes, FlyWP is compatible with all servers. So, from now on, you can select any hosting provider you want and peacefully manage your websites without any extra hassles.
Question 02: How does FlyWP help optimize WordPress websites?
Numerous ways FlyWP can help optimize your WordPress websites. Some most highlightable of them are server configuration, multiple caching types, deployment and syncing, performance auditing, database optimization, and more.
Check how to optimize your WordPress database.
Question 03: How can I use FlyWP?
You have to sign up to FlyWP first. You'll have a 14-day trial period to explore everything on this platform. Once the trial period comes to an end, you must subscribe to any of its premium plans. Visit its pricing section on the page FlyWP.com.
Question 04: Can FlyWP handle high-traffic websites and eCommerce platforms?
Of course, FlyWP can handle high-traffic websites and eCommerce platforms. This is why actually FlyWP has come to the market. This server management system automatically adjusts its resources to handle spikes in traffic without compromising the site's performance.
Question 05: Do I need any technical knowledge to use this service?
Yes, you obviously need a minimal level of technical knowledge/experience to use this solution. But no worries! Every pro-like user was once a beginner. You can sign up to FlyWP as a beginner and explore this platform for 14 days for free.
Hope within this time, you gain enough insight on how this platform works and how to operate FlyWP. You may get help from many YouTube videos as well. Once you gain the confidence, you may think of upgrading to the premium plans.
Conclusion
If you've read this entire article, we can assume that you are definitely looking for a cool server management system. And we are extremely happy to introduce you to such a wonderful server management system like FlyWP.
We aren't pushing you to buy this solution right now, but we are recommending you try this platform for at least 14 days. Hopefully, you'll be pleased with its ease of use and series of invaluable features.