Ever wondered why your inbox is like a busy marketplace, with some emails feeling like trustworthy friends while others seem like overly enthusiastic salespeople? You're not alone! Well, the first refers to transactional emails, the latter refers to marketing emails.
Transactional emails show up right on time, delivering important updates about your recent activities. These emails are like your digital sidekicks, ensuring you're always in the loop.
Now, meet marketing emails – they're the creative storytellers, here to dazzle you with exciting offers, sneak peeks of new products, and invitations to exclusive events.
In this guide, we will decode the debate on transactional email vs marketing email to help you fully understand the essential concepts in simple terms.
Definition: Transactional email vs marketing email
Transactional emails provide the information a user needs based on his/her actions. Marketing emails try to grab his attention, convert him into a customer. Let's break down the differences between transactional emails and marketing emails.
What are transactional emails?
Transactional emails are automated messages sent to individuals in response to a specific action they made on a website or application. These emails contain information with necessary details related to the respective actions.
Purpose: When users complete actions, like making a purchase, signing up for an account, or resetting a password, they receive transactional emails. Their main objective isn't selling anything but confirming you about your previous actions. These emails include essential information like verification link, username, password, etc.
Examples: Here are some common examples of transactional emails:
Order confirmation email
Account activation email
Password reset email
Subscription confirmation email
Receipt or invoice email
Account statement email
Membership renewal email, etc.
What are marketing emails?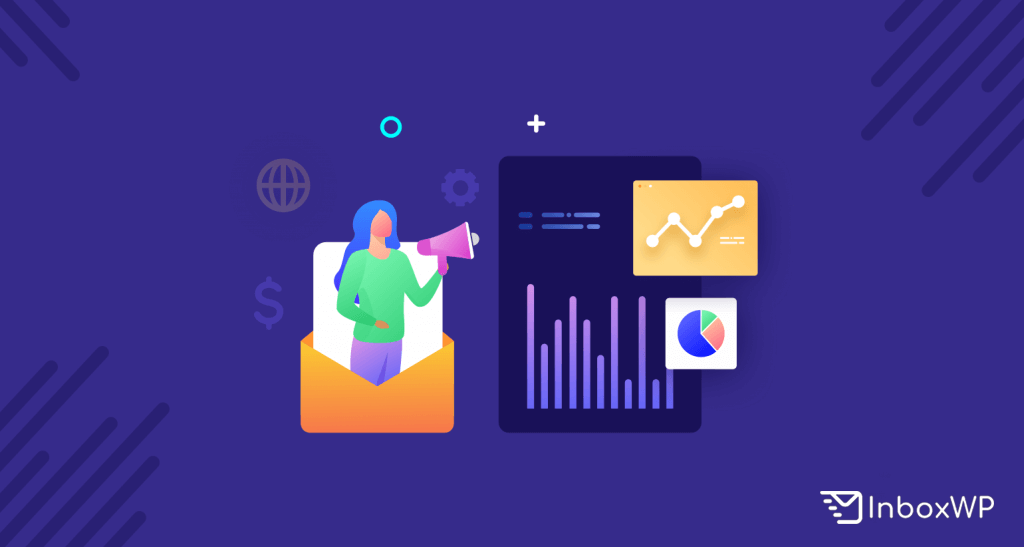 Marketing emails are promotional messages sent to a group of recipients to promote products and services. These emails are designed to catch attention, create interest, encourage recipients to take a specific action, such as purchasing.
Purpose: Attract customers, make them aware of new products, offer discounts, invite them to events, etc. The goal is to persuade them to buy something or commercially engage with the company.
Examples: Here are some common examples of marketing emails:
Promotional offer email
Event invitation email
Survey or feedback request email
Special discount email
New feature or product launch email
Cross-selling or up-selling email, etc.
Characteristics: Transactional email vs marketing email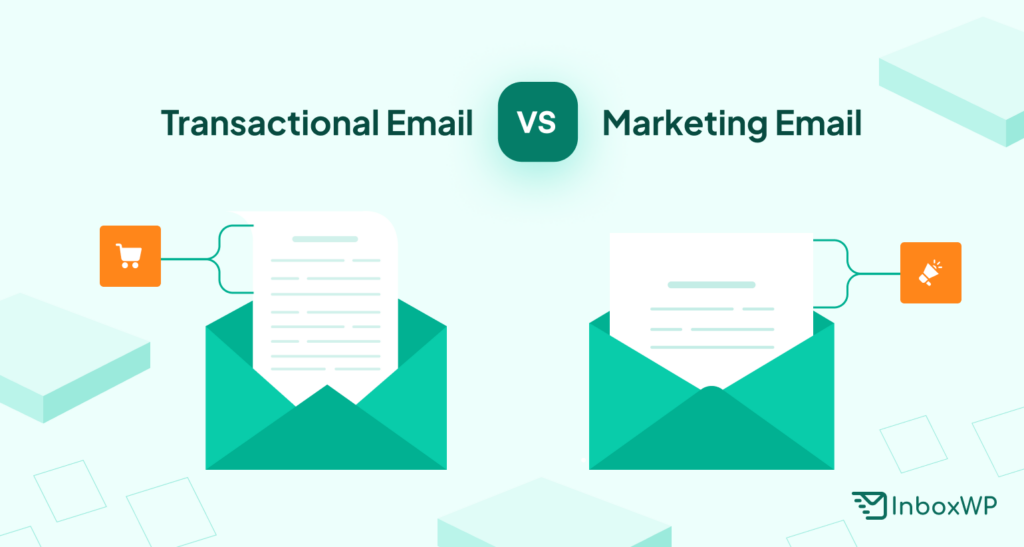 While both types of email aim to boost your brand, nurture customer relationships, they have distinct purposes requiring unique approaches. Learn how transactional emails and marketing emails differ in terms of characteristics.
Characteristics of transactional emails
1. Triggered by user actions
Transactional emails are triggered whenever users complete actions like making a purchase, signing up, equesting a password reset, etc. Transactional emails will not be sent unless you get involved in any such action.
2. Informational and relevant content
These emails don't beat around the bush. They contain important information related to the user's actions, such as order details, account confirmations, shipping notifications, or appointment reminders. These emails are highly relevant to the recipient, as they directly cater to the user's recent interaction with the business.
3. Non-promotional
Unlike those flashy marketing emails trying to sell you the latest gadget or trendy clothes, transactional emails are refreshingly free of promotional pitches. Their sole purpose is to assist you, not persuade you to buy more stuff. These emails simply inform or confirm.
4. Personalization
Transactional emails are often personalized, addressing the recipient by name, providing details specific to their transaction or interaction. This enhances the user experience, makes the recipient feel special and valued.
5. Excellent deliverability rate
They are typically expected by users and have a high deliverability rate. Most of the time, important transaction-related information reaches the intended recipients. So you're more likely to get a good delivery record.
6. Opt-out exemption
Since these emails are all about users' transactions or account activities, there's no need to worry about letting them opt out. That's why transactional emails are exempt from the requirement of including an unsubscribe link.
Characteristics of marketing emails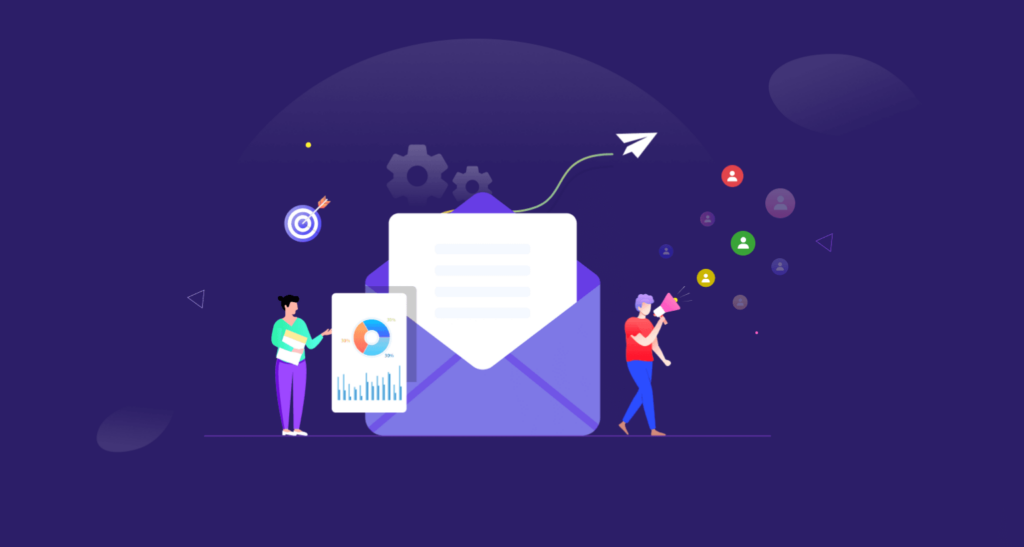 1. Sent to a segmented group
Marketers use data to target specific groups of recipients to ensure that the content is tailored to the recipient's interests or needs. As a result, marketing emails are sent to a broader audience or a specific segment of the customer base, aiming to promote products, services, or offers.
2. Promotional content
Unlike transactional counterparts, marketing emails contain mainly sales-oriented content, enticing offers, and exciting deals. They include promotional material, such as sales offers, new product announcements, event invitations, etc.
3. Call-to-action (CTA)
Marketing emails don't just want your users to read; they want them to act! They feature compelling calls-to-action (CTAs), clickable buttons or links. The CTAs encourage users to shop, subscribe, or participate in an event or survey.
4. Design and storytelling
Marketing emails are designed to catch your readers' eyes to make them stop scrolling. They come with vibrant colors, engaging visuals, compelling copies, and clever subject lines to pique recipients' curiosity.
Good marketing emails are master storytellers. They weave narratives around products, services, or brand experiences. They create an emotional connection to make the readers feel inspired, intrigued, or nostalgic to win their loyalty.
5. Personalized persuasion
Personalization isn't just a buzzword here – it's a superpower! Marketing emails often address recipients by name and recommend products based on their past purchases, making them feel like the email was crafted just for them.
6. Unsubscribe options
While they want to keep the recipients engaged, marketing emails always respect their choice. They include easy-to-find unsubscribe options to ensure that one can opt-out if he/she no longer wishes to receive the updates.
An overview of transactional email vs marketing email
Transactional emails and marketing emails are two distinct types of emails used by businesses to communicate with their customers. Transactional emails are triggered by specific actions to provide users with essential information related to those actions.
In contrast, marketing emails are designed to promote products, services, or events to a broader audience. Understanding the differences between these email types is crucial for businesses to engage with their customers and meet their communication objectives effectively. Here's a brief comparison of the two:
| Aspect | Transactional Email | Marketing Email |
| --- | --- | --- |
| Purpose | Confirm specific user actions (e.g., purchases, registrations) | Promote products, services, or events |
| Trigger | User-initiated actions trigger these emails | Businesses initiate these emails |
| Content | Informational, personalized, focusing on the user's transaction | Promotional, containing offers or incentives |
| Relevance | Highly relevant, tailored to the user's recent interactions | Broadly targeted, may be relevant to specific segments |
| Call-to-Action (CTA) | Limited to actions related to the user's transaction (e.g., view order details) | Encourages recipients to make a purchase, click a link, or participate in an event |
| Examples | Order confirmations, password resets, appointment reminders | Product promotions, newsletters, event invitations |
Use InboxWP to send all your transactional emails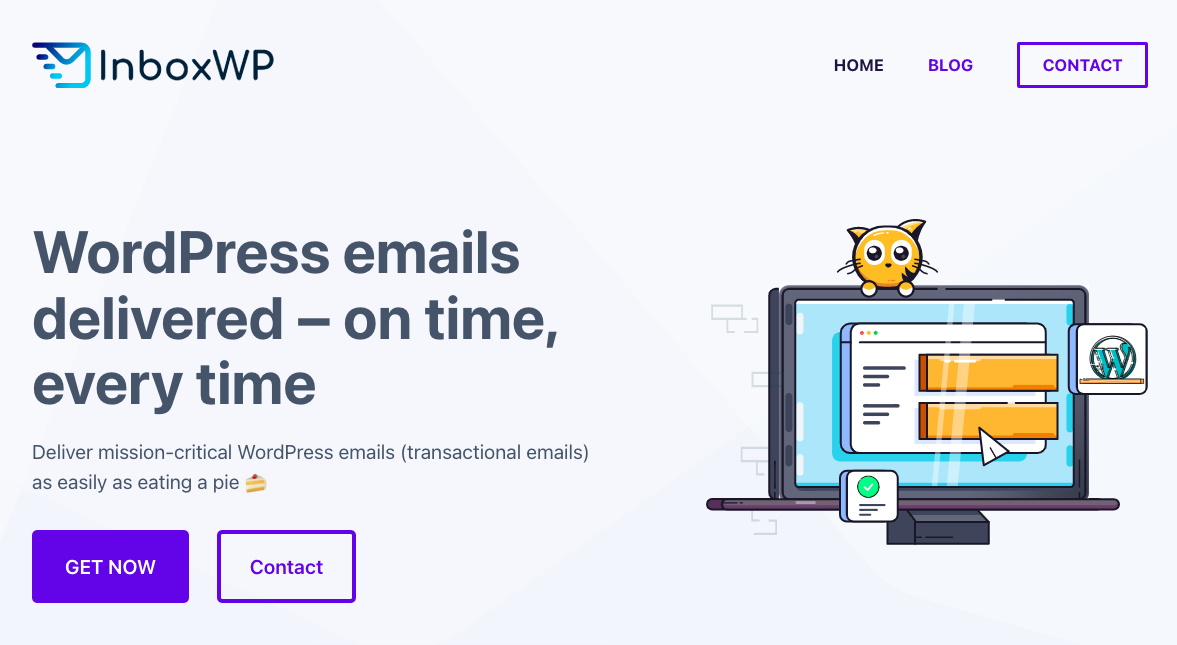 InboxWP guarantees secure delivery of your essential transactional emails, including password reset, sign-up, course completion, order confirmation notifications, etc. You can say goodbye to worries about email reliability for all your WordPress transactional emails.
InboxWP lets you easily manage all your system emails from one central hub. It eliminates the hassle of dealing with common email-sending problems and ensures a remarkable 99.5% delivery rate. Plus, InboxWP is fully white-labeled, providing a professional touch to your communications.
Know more about InboxWP features
Use weMail to send all your marketing emails
If you're using WordPress, you can use weMail to experience seamless email marketing. It works as an all-in-one solution for sending newsletters, capturing leads, automating emails, efficiently managing subscribers, and more within the WordPress dashboard.
weMail allows you to effortlessly send emails using leading providers like Amazon SES, SparkPost, Mailgun, SendGrid, Elastic Mail, or your preferred SMTP service. It's the ideal email marketing solution for businesses of all sizes, whether you have a small startup or a large enterprise.
Know more about weMail features
Best practices for creating transactional and marketing emails
Businesses can create impactful transactional/marketing emails to engage customers, enhance brand perception, and drive desired actions by the following best practices:
Transactional email best practices:
Keep transactional emails concise. Make sure the recipients understand the purpose of the email immediately.
Personalize with the recipient's name and other relevant details.
Maintain consistent branding elements such as logos, colors, fonts to reinforce your brand identity.
Include clear, prominent CTAs related to the transaction, such as "View Order Details" or "Confirm Appointment."
Keep the email layout/content responsive and easy to read on all-size screens.
Ensure transactional emails are sent promptly and are 100% reliable.
Include social media links in transactional emails to increase social presence, drive organic traffic.
Regularly review email delivery statistics, open rates, bounce rates, and engagement metrics to ensure emails reach recipients' inboxes.
Research to select a reliable transactional email service provider that aligns with your needs, budget, and quality expectations.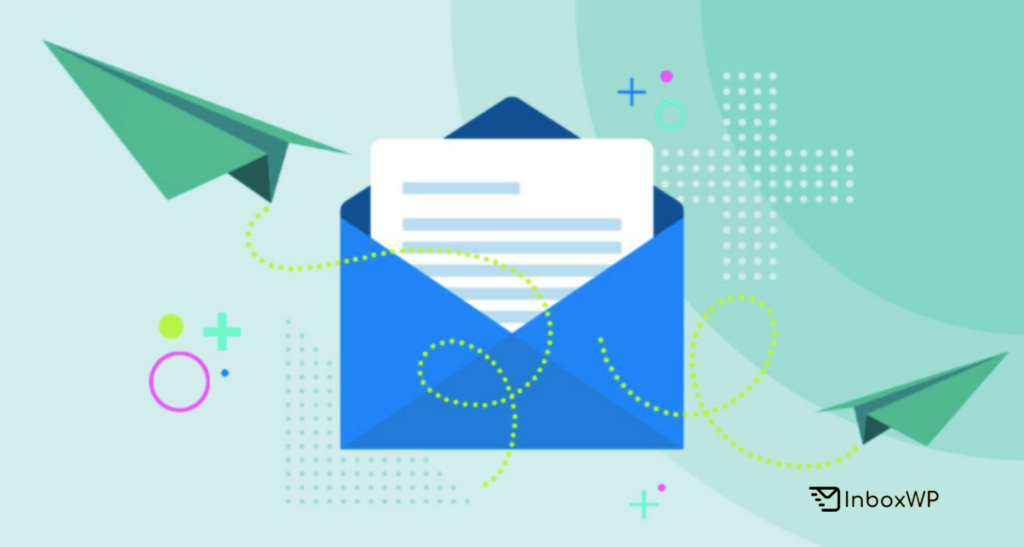 Marketing email best practices:
Divide your email list into segments based on demographics, purchase history, or behavior.
Craft engaging subject lines that grab the attention.
Personalize marketing emails beyond just using the recipient's name. Use past purchase history or preferences to recommend products.
Use visually appealing designs, including high-quality images and a balanced layout.
Keep the email content clear and concise when explaining the value proposition of your products and services.
Do A/B tests with different elements on your emails, such as subject lines, CTAs, or images, to determine what resonates best with your audience.
Ensure your marketing emails comply with regulations like GDPR and CAN-SPAM.
Set up follow-up emails for actions like abandoned carts.
Use automation tools to schedule emails based on user behavior to nurture leads and guide them through the customer journey.
Also read: 5 Best Transactional Email Services
Real-life examples of transactional and marketing emails
Let's learn from the industry leaders. We've gathered a few examples of both transactional and marketing emails in this section to show you real-life examples. These examples showcase the practical application of transactional and marketing emails in various scenarios, reflecting how businesses communicate with their customers effectively.
Transactional email examples
Order placement email from foodpanda:
foodpanda sends a simple message confirming the customer about his order. It uses its signature pinkish color to maintain brand consistency. It also includes a CTA button that allows the customers to track their orders.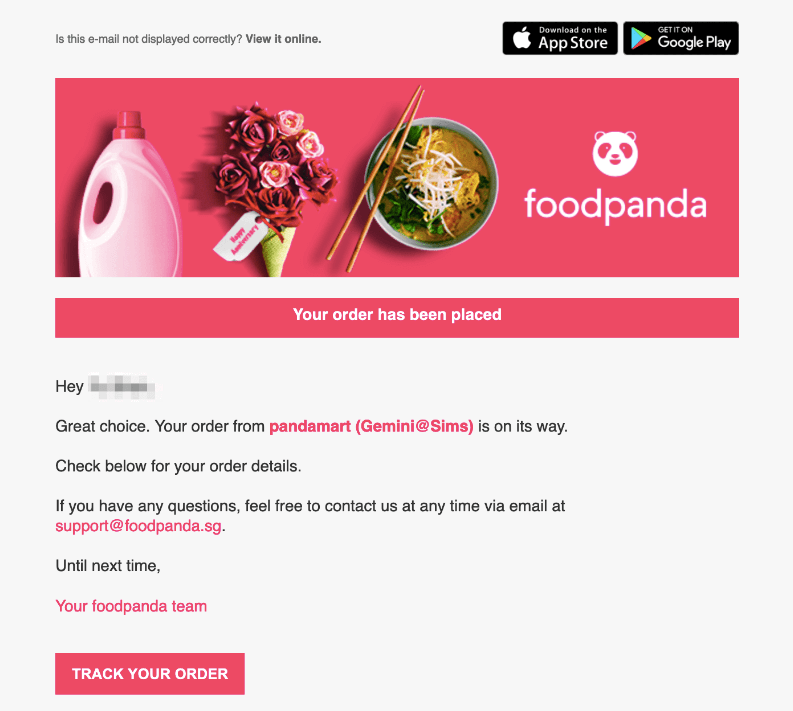 Email confirmation message from Slack:
Slack sends a precise message asking the recipient to confirm his/her email address. They provide a prominent "Confirm Email Address" CTA instead of any bare link. This adds up to the UX of this transactional email.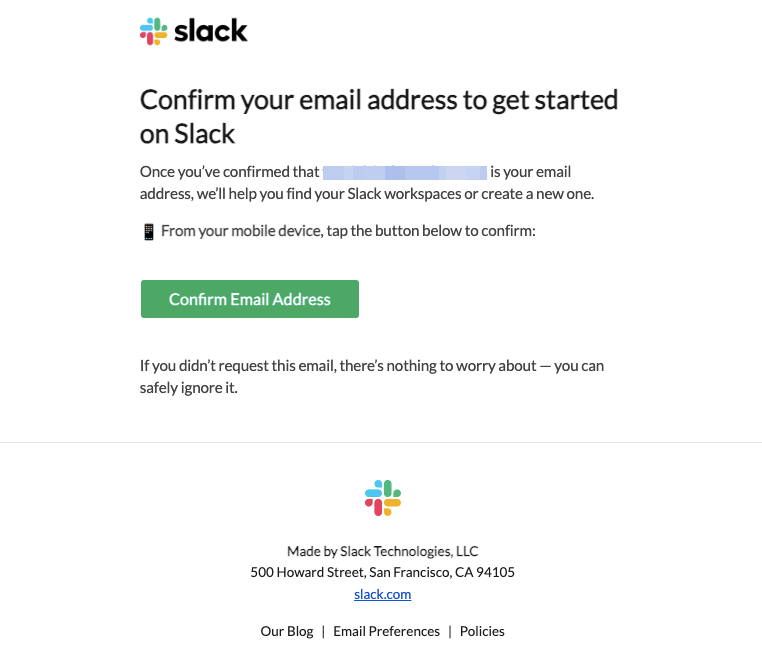 Password reset email from WordPress:
WordPress directly comes to the point in its transactional messages. It sends a bare link to the users and asks them to visit that respective address to reset the password. It focuses less on branding and more on the message being delivered.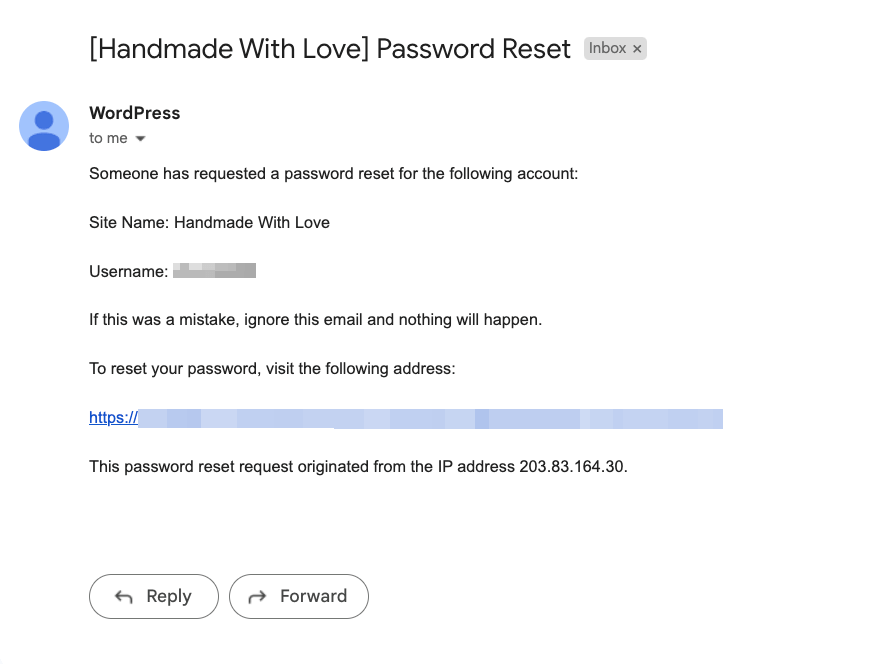 Marketing email examples
New feature introduction email from Sphere:
Sphere unveils an impressive feature– the ability to capture 360-degree videos. Through a visually appealing GIF, it effectively showcases this feature in all its glory. This communication specifically caters to existing app users. The strategically placed call-to-action button, urging users to "UPDATE THE APP," guides readers seamlessly in the right direction.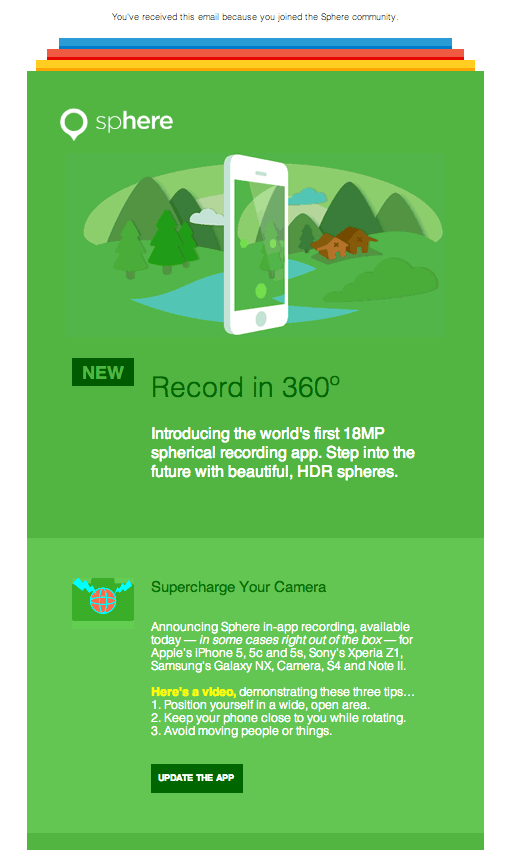 Web series teaser email from Netflix:
Netflix reveals the premiere date of their highly-anticipated series, featuring their iconic red call-to-action button. The email presents all the essential information concisely, without overwhelming readers with unnecessary flashy designs. It also provides an 'unsubscribe' link in the footer text.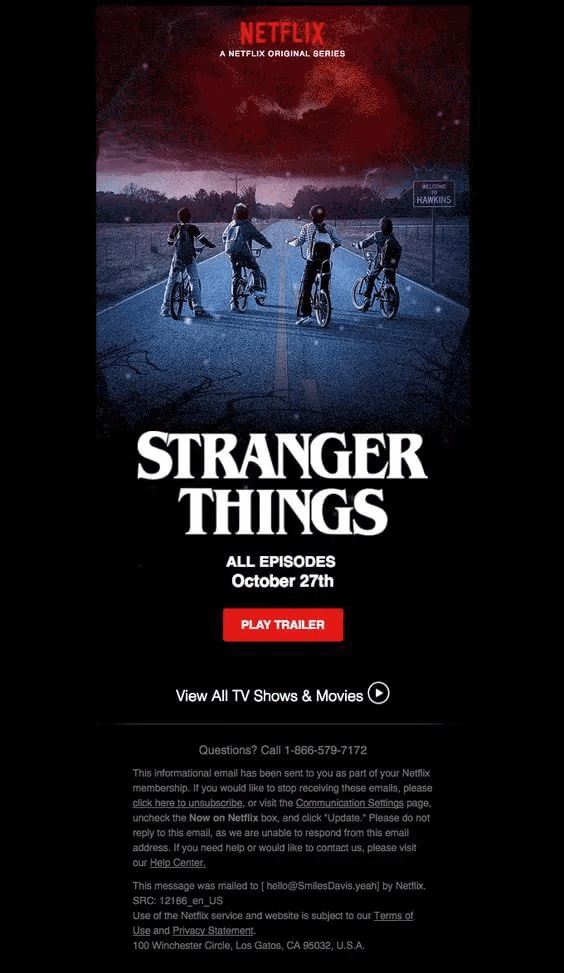 Cart abandonment email from New Balance:
New Balance sends a clear and concise email to potential customers who leave the cart without making a purchase. It offers an additional discount along with free shipping and adds a CTA button that guides the recipient directly to his/her abandoned cart. It also creates a FOMO by using the copy "Complete your order today…"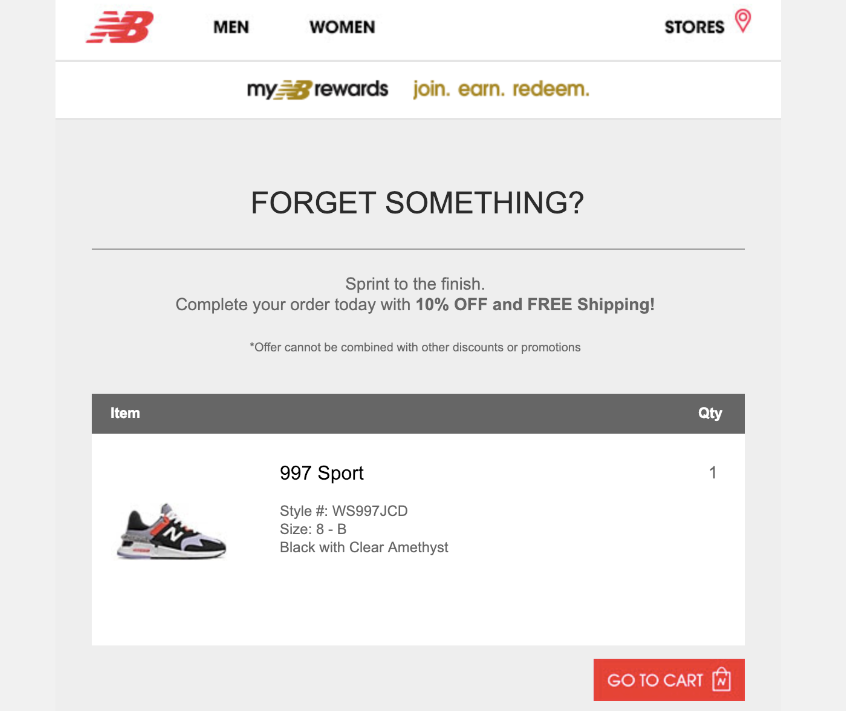 Key takeaways– Transactional email vs marketing email
We hope you've already learned everything about the difference between transactional emails and marketing emails. Let me help you find the main takeaways:
Balance is key: A successful email communication strategy often involves a balance between personalized, engaging marketing emails and clear, informative transactional emails.
Customer experience: Both types of emails contribute significantly to the overall customer experience. Transactional emails provide reassurance/trust while marketing emails showcase products and offers tailored to customer interests.
Compliance: Ensure marketing and transactional emails comply with relevant regulations to offer easy opt-out options, respecting recipients' preferences.
Understanding the subtle differences between marketing and transactional emails is important. You can significantly enhance customer engagement, build brand loyalty, and drive business success by leveraging their distinct strengths.